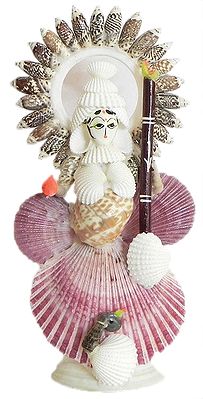 9 x 4 x 2 inches Weight - 150 gms.
From our Library
Nainital is considered to be one of the most brilliant diamonds of the Himalayan Belt... Goddess Sati is worshipped here at that Naina Devi Temple... Gurudongmar Lake is one of the highest lakes in India and in the world...located at an altitude of 17,800 feet... in the 15th century, Sikh Guru Nanak Dev Ji passed through this lake on his return from Tibet... Dedicated to the worship of Guru Gobind Singh Ji...Hemkund Sahib...is a stunning locale, featuring a glacial lake surrounded by seven imposing mountain peaks... Manimahesh Lake...is revered by Hindus as one of the holiest places of pilgrimage... Lord Shiva created Manimahesh after he wedded Goddess Parvati in her form of Goddess Girija. Shiva performed severe penance on the banks of Manimahesh Lake...
Testimonials
I loved the necklaces!
Thank you so much for everything. The articles are beyond beautiful. We love the items just so...